Noah's Involuntary Orgasm — SH Classic
Here's a classic from the Straight Hell vault…I loved Noah's first appearance back in 2009–I thought it epitomized the humiliation and shame of straight lads cowed into submission and forced sexual gratification. This clip sums up nicely that the Straight Hell experience need not be all about whips and chains, but that their psychological domination and abuse can be just as arousing. In this episode, perverted tops Reuben and Colin have been peeping in on hunky college boy Noah and his girlfriend as they spend the night alone at Noah's parent's house. After the lights are out, the prowlers break in and overwhelm the sleeping couple. Noah's girlfriend is bound and gagged with duct tape, as Reuben and Colin rope Noah to a chair naked and twist his nipples until he confesses to where he hides his porn. Muscular, masculine top Colin starts stroking Noah's big cock while Reuben leafs through the porno mag, forcing Noah to look at the slutty babes. Noah's cock grows hard, despite his protests that he's not queer. Colin and Reuben have a big laugh at Noah's involuntary erection, and when precum starts leaking out the tip betraying Noah's arousal, Colin starts sucking the nauseated 19 year old until he's ready to blow his load. The cackling perverts wank the mortified lad until he shoots his cum and then force him to lick up the disgusting mess.
Click here to download the full video archive of Noah's bondage and humiliating forced orgasm.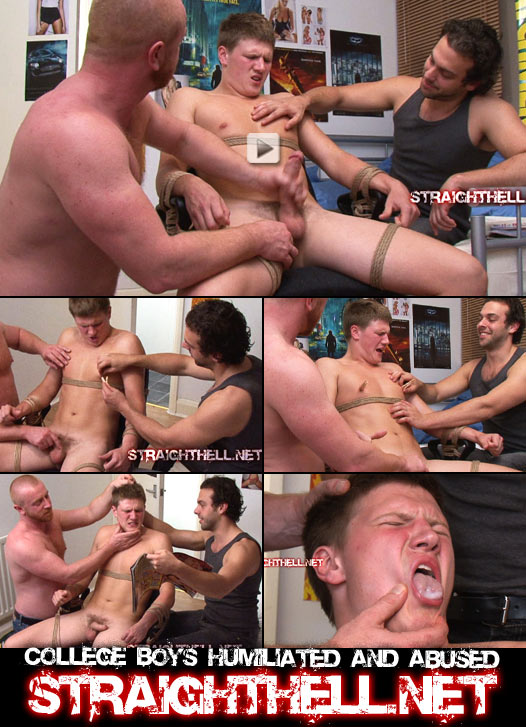 Enter here to see more humiliating abuse and perverted gay fetish play videos