Danny has proved to be a very resilient plaything for the bald sadists at BreederFuckers. Even after five dungeon sessions, the Irishman is shouting insults and threats at his captors, fueled by his palpable terror at the vulnerability of his current situation: he's naked and strapped to a discipline bench, unable to flee and feeling the giant target on his defenseless asshole.
Adrian is first to enter, groping the naked young man and letting him get a good case of the creeps before the punishment begins. Adrian brought the leather flogger and he gives Danny's ass a good whipping. Danny's rage is obvious, but Adrian wants to dial up his fear. He slips a stocking over Danny's head and binds his eyes with a roll of tape.
Now that Danny's can't see, the panic starts rising up in him. Dave arrives and fixes a pair of heavy-duty clamps to Danny's foreskin and ties them off to his big toes. If Danny kicks or squirms too much, it will feel like he's ripping his own cock off. Now Adrian sets back to work with the flogger, whipping Danny hard across the buttocks and back. Dave slips his pants off and waggles his cock in front of Danny's mouth. He orders the helpless slave to suck his massive dick, and if he does an acceptable job, the whipping might stop.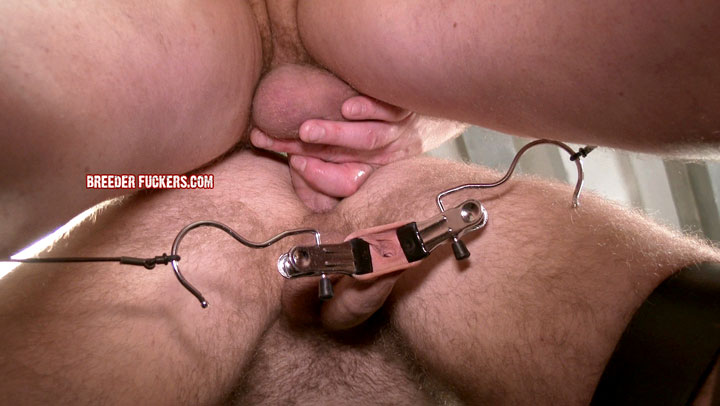 Danny starts swallowing the cock and Dave's arousal is evident. His bone grows in Danny's mouth, choking him and making him gag. Adrian tells him he's doing a fine job and he's putting the whip away. Danny feel relief, but soon alarm bells are ringing when he feels something stiff poking his ass. While Dave's cock is jabbing down his throat, Adrian is sticking a massive dildo up Danny's ass. He tries to fight but he's threatened with the whip again and is ordered to take it like an obedient cunt.
Dave's cock is throbbing and Danny's plaintive moans have made him so lusty for that ass. He shoves his cock up Danny's hole and fucks him hard. The clamps are still clenched onto his foreskin, twisting his flesh. Danny is wracked with pain, but his tormentors love it. Dave shoots a load of cum right onto Danny's hole, and Adrian is right behind him with his throbbing erection to push all of the cum right back into his ass. While Adrian gets sloppy seconds, Dave spreads his ass cheeks in front of Danny's face and orders him to lick his sweaty ass. Danny's squishy ass feels delightful and soon Adrian's blowing his load inside the wretched slave as well. His meaty ass is leaking cum and he collapses in defeat on the bench. Click here to watch Danny's entire ordeal and double cum load deposit at BreederFuckers.com.