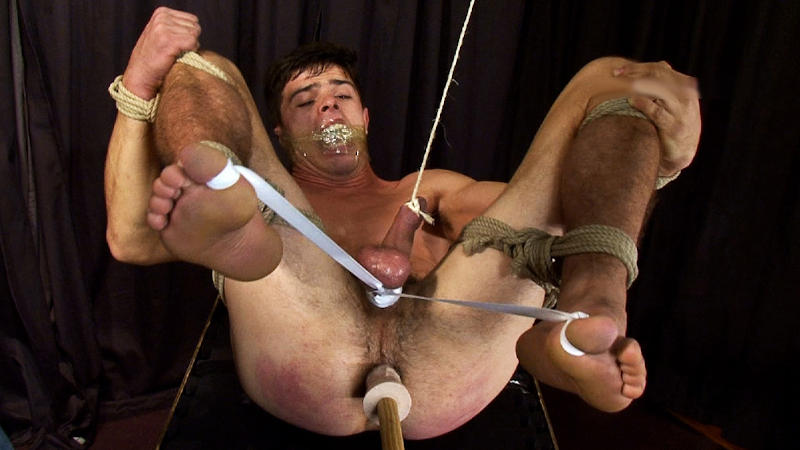 Jack is one of the most handsome models to ever grace the Breeder Fuckers dungeon. Dark features, a fit physical specimen, he is one of the all-around total packages that fall into our laps only once in a great while. Dave and Adrian made the most of his captivity, and it's an experience worth reliving.
Jack is tied up naked, on his back, wrists to knees. With his legs pulled up, his asshole is defenseless. Dave has also done us the courtesy of binding Jack's balls with a ribbon and tying it off to his big toes, so that every time he kicks or squirms, it feels like his testicles are going to rip clean off his body.
Dave demonstrated this to Jack by tickling his feet. Jack is indeed very ticklish, and it is wonderful to hear his panicked laughter mixed with the pained cries as he tries to gets out of Dave's grasp. You can see Jack beginning to pant and sweat as Dave finally draws down, but only to let Adrian join the mix.
Master Adrian has a long, thick dildo mounted on a long stick that he presents to Jack just inches from his nose. Adrian tells him it's awfully dry and it's to Jack's benefit that he get it slicked up. Jack is terrified at the thought of that massive rubber dong getting shoved into his shitter, and he tries to clamp his mouth shut. But Dave gets his gob open and Adrian rams the dildo down Jack's throat to get the dildo adequately lubed.
As Adrian inserts the dildo into Jack's ass, he bellows and shrieks. Dave tapes his mouth shut to muffle the din and Adrian continues to work the dildo deeper and deeper, faster and faster. Dave makes his next move: he ties a piece of thin, rough twine around the head of Jack's penis and pulls the string taut over one of the rafters. The twine feels like a knife as it digs into Jack's tender knob.
Meanwhile, Adrian is very happy at how sloppy Jack's asshole has become. He chucks the dildo and drops his pants. His dick is throbbing and he's ready to fuck this slave boy silly. He doesn't bother to undo the ribbon binding Jack's balls, so as he thrusts and as Jack tries to kick back, he still feels like his balls are being wrenched. Dave is still working on the periphery, making sure this act of hard anal fucking doesn't become pleasurable for Jack. He's whipping Jack's slicked flesh with a cane, lashing him on the buttocks, inner thighs and abdomen as Adrian pumps away. It's a terrific memory of utter pain and debasement to lift you through the week. Watch the full video of Jack's agonizing CBT torment and relentless anal debasement at Breeder Fuckers.