September 22, 2022
CBT, Dave, Derek, Dildo Training, Flogging, Gag Training, Involuntary Arousal, Nipple Torture, Rope Bondage, Sergei, Whipping
Daniel and David love playing a game in the dungeon..Punish, Arouse and ??? Sometimes they let their slave cum as a reward for being a good little slave bitch, sometimes they ruin the fun and leave the helpless slave hanging with a cock seconds from shooting its creamy goodness, frustrated and helpless and completely vulnerable to another round of excruciating punishment.
Sergei's fourth episode in the dungeon begins with the exhausted Russian roped in a standing position hanging by his bound wrists. He's naked except for his plain white underwear. Daniel enters, looking every inch the predator. He starts caressing Sergei's bare skin, touching his nipples and exploring his chest. After all of this time in the dungeon and his painful torture, Sergei is still fighting, cursing Daniel and yelling at him to get his goddamn fag hands off his body. Daniel cackles like he's taking candy form a baby, and he proceeds to twist on Sergei's sweet little nipples like he's trying to tear them off, and then lifts him up by his underwear, giving him an atomic wedgie until Sergei is lifted and his entire weight is all resting on a strip of fabric cutting into his balls and his sphincter. Finally it breaks and Sergei breathes a sigh of relief.
Dave has been waiting this entire time for his chance to get in on the fun. He twirls his leather flogger menacingly, ready to feel the tails raking Sergei's smooth flesh. He unleashes his fury, whipping Sergei across the ass, back and torso. He's a red, blotchy mess and he's breathing hard behind his duct tape gag. Dave hands off the flogger to Daniel and he shows Sergei his next torture implement. He's got a dildo mounted on a stick, ready to jam up Sergei's tight little ass. It feels like a red hot poker going in and Sergei moans and whimpers. His slave's ass filled, Dave turns his attention to Sergei's cock, which we've seen in previous episodes as a thick and meaty looking morsel . His foreskin is long and soft and irresistible to Dave. He strokes Sergei's shaft and plays with his tender cock head while Daniel keeps whipping the poor slave. Sergei is getting hard despite his disgust for the touch of another man, and finally Dave is stroking him to the edge of ecstasy…will Dave let the poor lad cum this time? Click here to get a look inside BreederFuckers and see if Sergei is debased or once again tortured and denied his desperate orgasm.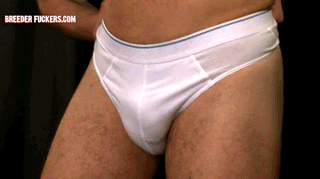 No boring teasers, just Super Horny dudes playing with their raging erections 24/7