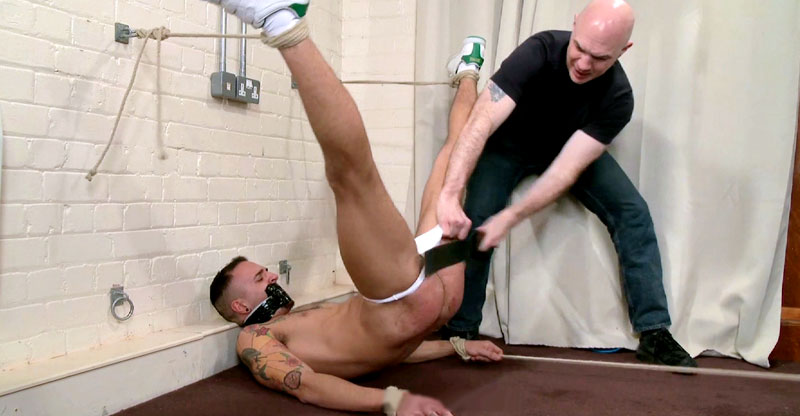 Helpless Leo Bunny thought the worst things that could ever happen were past. What could be worse than getting flogged, getting your balls yanked off, and getting spitroasted and covered in the filthy cum of your captors? Whatever Leo Bunny thought was the worst, he probably hadn't thought of two words: piss receptacle.
Leo begins his torture looking fairly comfortable and leisurely. On his back in a pair of tighty-whities and a new pair of trainers, Leo looks none the worse for wear, other than the ropes on his wrists and ankles. But just because he's not in distress at the moment doesn't make him happy. He yells out to be freed, but Dave and Adrian have no use for his pointless caterwauling. Leo's firm round ass is going to bear the brunt of the humiliation today.
First Adrian gives Leo some gentle swats on the bum with a leather strap. Leo has turned out to be a giant drama queen however, and every time the leather flicks against his buttocks, he cries out like he's been shot. Dave has less patience that fun-loving Adrian. He squirts a bottle of baby oil all over Leo's body and starts fingering his tight bottom, squeezing his digit into Leo's still-tight hole.
Dave and Adrian take turns loosening up Leo's tight ass and eventually Adrian inserts a speculum to spread Leo's hole open and keep it open. Leo is howling through his duct tape gag, but the fear really sets in when the tip of a funnel is inserted into his wide open hole. He can see it unfolding: Dave pulls out his long, floppy cock and lets a stream of piss fly right into the funnel and it drains right into his guts. Leo is now a piss receptacle, a human urinal.
Leo's struggles are futile. The funnel is removed and his asshole is stoppered with a wide buttplug. He can feel Dave's foul urine sloshing inside of him and the hideous duo won't leave him alone. Wanting to make sure Dave's waste settles deep inside of Leo, the slave boy is propped upside down so Adrian can give him a fresh spanking, and while Adrian works, Dave strips naked below the waist and sits on Leo's face, forcing the horrified straight boy to lick out his asshole while he writhes in pain and revulsion. Click here to watch Leo's swan song as a piss-filled slave boy at BreederFuckers.com.