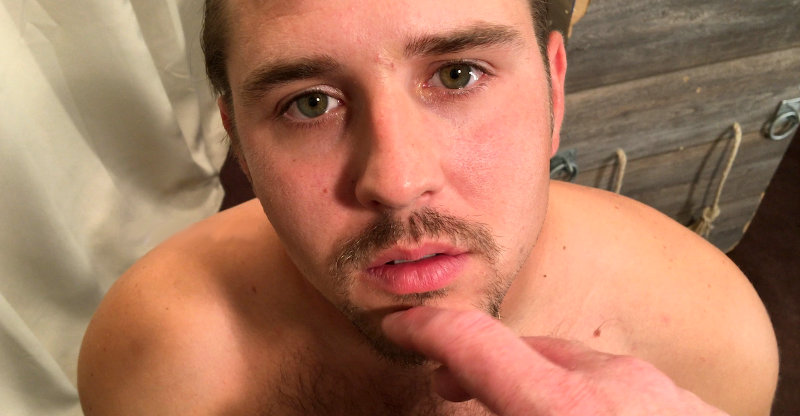 Toby's return to Breeder Fuckers has shown him to be humbled and cowed. In the eight years since he debuted on Straight Hell as a lean, back alley chav thug, he's filled out and assumed a mundane life of subsistence labour. With capitalism bearing down on him, Toby returns to his roots seeking a financial lifeline.
In giving himself over to Dave and Adrian in exchange for cash, Toby must submit to their whims. In his return a few weeks ago, Adrian fucked him deep in front of his jeering pals. Now, Toby is alone with Dave, and the bald bastard wants to get reacquainted with his old slave.
Dave doesn't bother tying Toby up. He's not even locked the door to the dungeon. He's got his phone out, making the whole endeavor like a POV video horny young lovers would make for porn hub. Toby is instructed to remove his shirt, remove his pants and then submit to fondling of his cock, balls and ass.
After Dave has thoroughly felt around Toby's package and made good and sure his lover-of-the-moment is feeling on edge and squeamish. Dave tells Toby to get on his knees. He gets a great, long shot of Toby's face staring right into the camera as Dave's hand caresses his lips and his beard. Dave asks Toby if he knows what's coming next. Toby nods, knowing he's going to have to suck Dave's cock.
Toby pulls down Dave's jeans and underwear, exposing his fat prick. Dave tells him to get it hard, and Toby dutifully complies. Like he's remembering old talents laying dormant for years, he pumps Dave's cock into his mouth, deeper down his throat until he's swallowing the entire pole. Dave is impressed with Toby's ability to swallow cock, but he wants to make sure Toby remembers who is in charge. When Toby has swallowed Dave's entire length, Dave thrusts a little deeper until Toby's gagging on his cock, and drool webs of the head of Dave's cock when he withdraws it from his paid fuckboy's mouth.
Dave asks again, do you know what's coming next? Toby nods grimly. "You're going to fuck me." He gets on his back and Dave prepares to mount him, keeping the camera trained on Toby's hairy hole. Dave is relentless, pounding Toby's broke ass with his thick pole, playing with his straight cock until it starts to spring to life. Dave captures the look on Toby's face as the arousal and pleasure starts to hit him. Dave fucks him harder and faster and then orders him to the floor. Once again he asks, do you know what's coming next? Toby answers, "You're going to cum on me." And Dave lets his creamy way fly, right into Toby's waiting mouth, where the reluctant straight man tries not to make a face as he tastes Dave's semen. Dave tersely instructs Toby to lick it all up, and Toby indeed sucks the remaining cum from Dave's still throbbing dick. Click here to watch the full POV submission fuck at Breeder Fuckers.