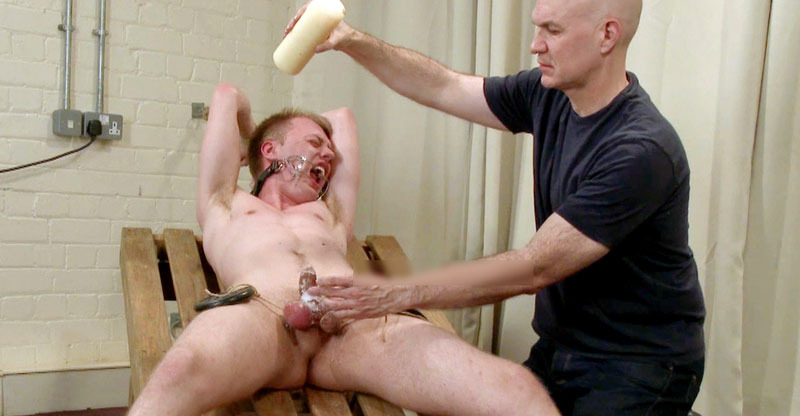 Blond cutie Chris is backon the torture rack featuring a new, unspeakable horror in the BreederFuckers dungeon. Naked and lying on a wooden pallet with his ankles and wrists roped, Chris dreads what Dave and Adrian have in store for him. The perverted duo have been mesmerized by Chris's bulging dick and his very ample balls and now they've got a new torture in store for those very ripe plums.
Dave and Adrian start by cinching each testicle tightly with twine and then tying it off to a dumbbell weight. The hanging weight are enough to get Chris groaning and yelping, but Adrian makes the pain worse by squeezing and wanking Chris's soft, uncut cock. Every little movement makes the weight on his balls worse, and getting his dick tugged makes his balls feel like they're going to be torn off!
Dave has another idea of how to make Chris miserable: he opens up the slave boy's mouth with a ratchet gag and then drops his sweaty, stinky asshole right on top of it. Dave looks like he's in heaven with a gorgeous teen boy's tongue wiggling in his ass, and Adrian remains cranking Chris's cock and working him into an erect state despite his pain and revulsion.
After Chris survives his forced rimjob service, Adrian decides to make the mood a bit more romantic and he lights a few candles. Hot wax splashing down on his super-sensitive genitals does not improve Chris's mood however, and his cries get louder and more pathetic. Soon Chris's cock looks like a candle itself, coated in wax, with Adrian being very careful about getting hot wax in his foreskin on his very sensitive cock head. Then comes the final, humiliating infliction of pain.
They insert a birthday candle into Chris's peehole and light it up. The thin candle burns his urethra and makes Chris squirm, and the candle dribbles scalding wax onto his balls and adds more misery to the pile. Dave tops everything off with a rough and deep finger fuck and Chris screams and can't fight any longer. So what do you do when your slave boy runs out of juice? You fill him back p, and Adrian and Dave take a quick break to piss in Chris's pried open mouth while he's helpless and then scurry off to plan their next gay BDSM barbarity. Click here to watch Chris suffer through agonizing CBT and hot wax torture and a mouthful of piss at BreederFuckers.com.