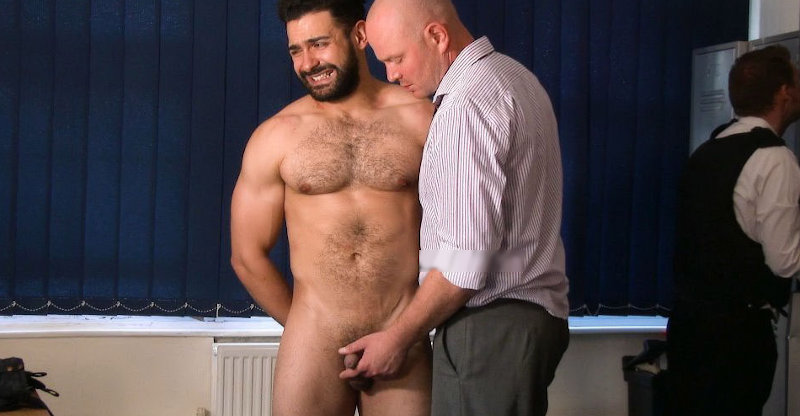 Richard came into his job interview with a debt collection agency acting like a total hard man. But after 15 minutes with the boss, he's bending over like a bitch and repeating "Whatever it takes" to every filthy and sexually degrading situation suggested by his new boss.
Bent over and naked, Dave asks, what if someone wants to play with your ass? Would you let them to collect a debt? Richard winces and answers yes. What if they wanted to wank your cock and watch you shoot your cum? Would you let them to collect a debt? Again, Richard swallows his pride and answers yes.
Dave is clearly enjoying this job interview. He has Richard naked and bent over, he's cupping his balls while he sniffs his hairy asscrack. He then has Richard stand up straight and he gets uncomfortably close to his face. He wanks Richard's uncut cock and stares him in the eye. Richard can't bare the embarrassment of the situation and has to look at the floor.
Dave keeps up the humiliating questions. Would you sit on someone's face? Would you let someone stick toys in your ass? Richard's pain is obvious, and even though he's clearly feeling the enormous indignity of the situation, he keeps answering yes. Finally Dave relents and walks back to his desk. He's got a hard case, an overdue debt that he's bestowing on his newest officer. Richard takes the order with apprehension…what the hell has he gotten himself into? Click here to watch the hairy muscle man fight through his squeamishness while he's horribly humiliated at CMNM.