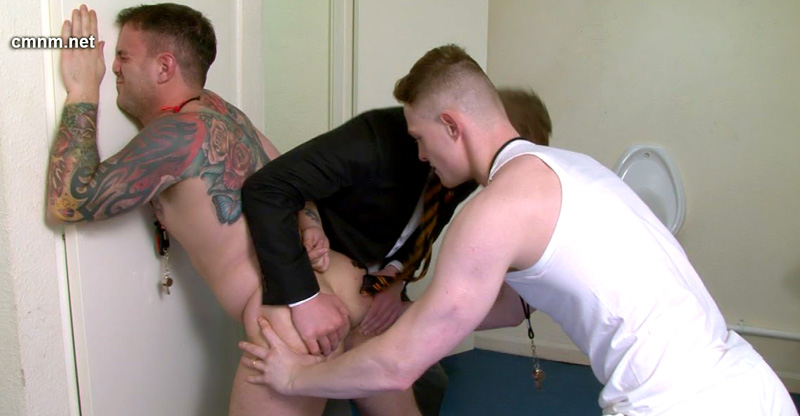 Since Mr. West suffered through his demeaning physical before getting officially hired as the new gym teacher at St. Dunstan's Academy, his superior, Coach Bullock, has been making him do all of the shit jobs associated with being the new guy: washing jock straps, unclogging toilets and cleaning up after juvenile schoolboy pranks. Mr. West finally loses his temper after being told to clean up shitty toilet paper left in the garbage by the lads, and he tells Bullock what he thinks about getting all of the crap jobs.
Mr. West towers over Coach Bullock. He pushes him against the wall and yells that he's tired of Bullock taking the piss out of him, and he's going to have to deal with a rough physical exam. Bullock meekly cowers, afraid of Mr. West's temper. The tall, muscular redhead rips Bullock's shirt and shorts to ribbons and soon the chubby little bastard is standing there naked, waiting for the worst.
Getting Rough and Aggressive
Mr. West is kind of a newbie when it comes to sexually bullying another man. He's done his share of terrorizing on the playground and in the locker room, but this particular brand of revenge is a little foreign to him. Good thing young thug Daniel Johnson is loitering around the change room to provide a hand. As good as he is at playing the brutal stooge, he hates being on Coach Bullock's leash, so while West pins Bullock to the wall, Daniel twists his nipples and lewdly licks his stubbled cheeks.
Mr. West continues to verbally attack Bullock for humiliating and debasing him, and Daniel amplifies the threats by taking Coach Bullock's ample balls in his hand and turning them forcefully, like he was twisting the dial on a stereo. Bullock gasps and a sick look comes across his face. He's in very deep trouble now and he's dreading the dark turn things are going to take. Click here to watch Mr. West get his angry revenge on naked, chubby Coach Bullock with the help of cruel thug Daniel Johnson at CMNM.net.