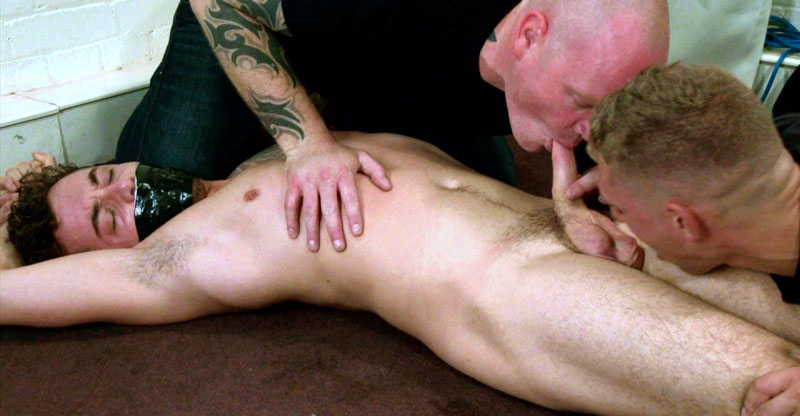 Dave has recruited Aaron into the ranks of BreederFucker Tops after proving himself worthy at Brutal Tops and CMNM — the young lad has gone from pathetic straight man to kinky, deviant homosexual and worthy of hunting with the big dog. Dave has been stalking a new victim online; he se's some clown selling a worthless car for way too much money and he knows that's going to be the sucker who gets taken down and humiliated until he's nothing but a human shit stain.
When the meeting is set, Dave and Aaron arrive to kick the tires on the car. Jack waits impatiently, insulted when they try to low-ball him. He tells the perverts to fuck off with their shitty offer and Dave cold cocks him and knocks him out. His mouth is taped shut and he's loaded into the back of his own car and the criminals roar off.
Back in the BreederFuckers dungeon, Jack is still out of it and Dave and Aaron are on him like wolves on a piece of meat. They rip his clothes off and start sniffing, licking and probing every crack and crevice of his body. His tight pink asshole is lasciviously licked out and it makes him squirm and try to kick his way loose. He's trapped and his asshole is like a sweet treat for both hard men to sample.
Naked, bound and gagged, Jack is helpless when Aaron and Dave turn him over, cock side up. They dive in like hungry animals, trading licks on his flaccid cock like lovers' licks on a lollipop. Soon, Jack's involuntary responses take over and he can't help getting hard, a little at first, but soon his cock is getting swollen and hard in the mouths of Dave and Aaron. This first episode is like the start of a slow burn — if you like ambush and rough foreplay, you are going to love Jack's debut at BreederFuckers. Click here to watch Jack kidnapped and forcefully stripped and violated only at BreederFuckers.com.