So this is a new feature I'd like to add because the more obsessed I become with BreederFuckers, the more I start viewing all other porn through the BreederFuckers lens. I start picturing all lads roped in the dungeon and taking a hard spanking or brutal fucking from Dave or Adrian. Yesterday I was watching a spanking video on another site and I loved the young muscle man who easily flipped another bulky jock over his knee for a spanking. Andy Lee has been popping up here and there on British model sites for the past few years and he is stunningly handsome, heavily tattooed and gorgeously muscled. He's sporting a scruffy beard these days which gives him that very WOOFy appeal as well. As far as I know, he's appeared in several solo videos as well as duos, but never had any actual sexual contact with another man on video. I would love for Dave and Adrian to get their hooks in him once and for all and break that anal cherry of his!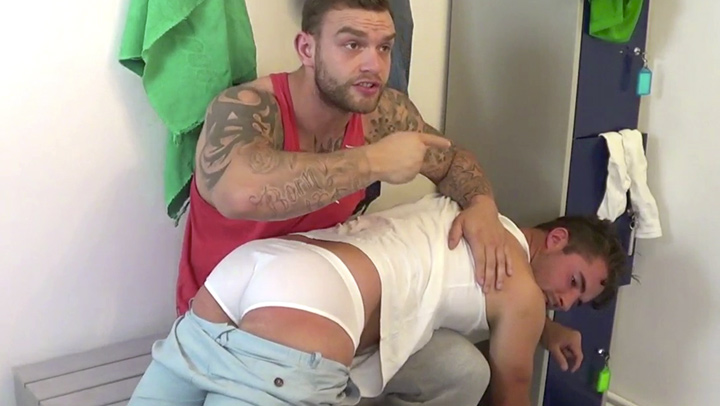 Here's the picture that got my juices flowing…Andy's such a tough guy and in total control of the lad across his knee. He's actually spanking one lad and warning another boy off camera he's next!
Now here he is at a recent "double solo" scene he shot for Blake Mason in January. Look at that chest!
And have I mentioned he's got a cock like a tree trunk?
God, I'd love to see this lad tied on his back with his legs in the air, his ass getting loosened up with a giant dildo and Adrian sucking that massive pole! Leave your bondage fantasies about Andy Lee in the comments below or tweet them to @str8hellvids and let me know what kinds of sick filth you'd like to see happen to Andy!
Spanking still from StraightLadsSpanked.com
Solo Images from Blake Mason