Sadistic young Aaron is getting used to having Jack Taylor as his handsome and pliable personal slave. Jack is helpless as Aaron slaps him around, and pulls his underwear over his face like a mask. It's unpleasant and humiliating, but it's just the start of another long ordeal at BreederFuckers for bitch-boy Jack.
Jack is naked, with his underwear pulled over his head, and his arms roped behind him and tied at the wrists. He's lying face down on a stained mattress pulled out of an alley, and Aaron is looming large above him, talking shit and slapping him in the face. Dave enters to tighten up Jack's ropes and get his legs done up in a sexy looking hogtie.
Now Jack is really in trouble. His arms and legs are useless and his asshole is defenceless for whatever Aaron decides he wants to do. He pulls out a dildo and starts fucking Jack's hole while mocking him for not being as tight as when they first started. All of this torture is turning Jack into a loose slut! While he works the dildo, Aaron starts teasing Jack's big uncut cock with the cattle prod, zapping his balls and cockhead and making Jack cry and scream through his gag.
Aaron is really feeling drunk with power in his domination of helpless Jack. After many electro-shocks to jack's genitals, Aaron stands over him and gets a good grip on the ropes tying Jack's arms and legs and picks him up like he's doing a deadlift at the gym. Aaron is smug as shit hoisting Jack off the ground, swinging him too and fro, and Jack is bellowing in pain from hanging by his rope restraints. Aaron gives him a few good swings and drops him like a sack of dirt, satisfied with his overt display of masculine dominance of Jack.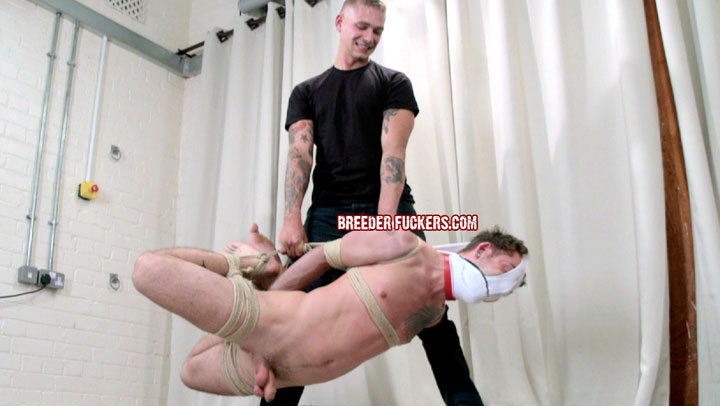 After the brute force, Aaron finishes Jack with something totally unexpected: he produces a feather and tickles the soles of Jack's feet until Jack is writhing and convulsing. The poor slave boy doesn't know what's coming next. Aaron drives him crazy with the feather and then uses the cattle prod to shock Jack's bare feet! Jack is going to be an anxious wreck after this. Someone get in there and jerk him off! Click here to watch this wild gay bondage vide featuring weird shit left and right from BreederFuckers.com.