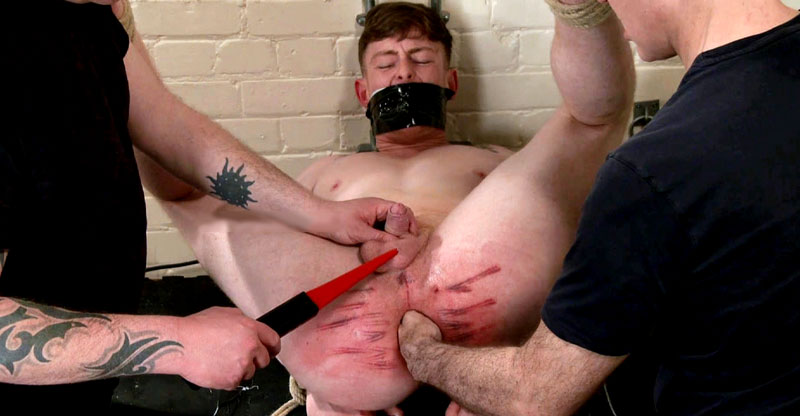 Mark's brutal punishment at Breeder Fuckers continues with no end in site. The hetero jock's big muscles and bulging thighs are going to be used against him as Dave and Adrian plan to see how much penetration training his ass can take. helpless on his back with his legs in the air, Mark dreads what's coming for him, although there's no way he could imagine what he's about to endure.
The sadistic perverts starts gently, relatively speaking. Adrian warms up Mark's bum with a playful series of lashes from the flogger and then Dave pulls of Mark's trainers and tickles his bare feet until tears are streaming from Mark's eyes. After everyone has had a laugh, they decide to get down to the serious business. Mark's tight white underwear are snipped off with scissors and his bright red bum is on full display. Dave has a cane and asks Mark how many ladies he's fucked. Mark's going to get a lash for every woman he's fucked, and the stud has ploughed eleven he can remember. Dave shows no mercy or hesitation. He delivers eleven hard cane lashes to Mark's ass in rapid succession, leaving the brawny jock's ass a purple-striped mess.
After the agonizing corporal punishment, Adrian starts working on Mark's hole to loosen it up. He starts with a couple of fingers ramming quick and deep up mark's ass, then three, then four, then the whole fist. It's been a long time since we've seen a good fisting on BreederFuckers, and Mark is shocked to be on the receiving end. While Mark is bellowing in pain through his duct tape gag, Dave start playing with the slave boy's shrimpy cock, teasing it a bit to see if Mark can still get hard with a fist up his ass. Not yet, but Dave has other methods of entertainment at his disposal.
While Adrian works his fist into Mark's guts, Dave is playing with a cattle prod and toying with the ginger slave's cock and balls. He zaps Mark's cock head and the slave bucks like a wild horse. Again and again, Dave delivers a painful electric jolt to the genitals, making Mark squirm and squeeze, but that's not enough to stop the torture or get the fist out of his ass. Adrian decides to try a new toy and reaches for the XL vibrator and stuffs it deep into Mark's hole while Dave continues zapping his privates. The deviant duo force Mark to keep the dildo up his hole for the rest of the punishment, but when Dave grabs the cane again and starts whipping the soles of Mark's feet, the wrecked slave is in too much pain and he squeezes the toy out of his ass, earning an even harsher bastinado punishment. Click here to watch Mark's unbelievable anal punishment and bastinado lessons at BreederFuckers.